If you're like most homeowners, you want your home to impress every one of your guests. Besides having an amazing living space and backyard, another thing you can do is give your guests an incredible bathroom experience.
Well, a powder room is a small guest bathroom that has a toilet and a sink. It's a simple space, but filled with your personal taste and style. It can have a nice wallpaper, a unique vanity, some paintings, some figurines, flowers, a copper sink, and anything else that would make it yours.
Let's see more about it.
Why Should You Consider Adding A Powder Room?
Efficient Way Of Utilizing Space
A powder room, also known as a half bath, is a small room typically containing just a toilet and sink. Powder rooms are usually located near areas of high traffic in the home, such as the living room or kitchen, making them convenient for guests. Because they are small-scale, powder rooms can fit into an already established floor plan without taking up too much space. This means it won't affect the overall look and functionality of the space as much as a full bathroom.
But because powder rooms are smaller, you'll also need to choose features that will fit easily with the space. For example, pedestal sinks are a good choice for powder rooms because they take up less space than traditional vanity cabinets. Other space-saving ideas for powder rooms include wall-mounted toilets and compact storage solutions made out of manufactured wood. With a little planning, you can easily create a stylish and functional powder room that your guests will appreciate.
When it comes to home renovations, many people focus on the kitchen and the bathroom. However, there is another room that can make a big impact, particularly if you are considering selling your home in the future – the powder room. While it may seem like a luxury item, the truth is that buyers are often looking for multiple bath spaces in a home. As a result, having a powder room can actually improve your home's selling potential.
Even if you are not planning on putting your home on the market anytime soon, the convenience and functionality of a powder room make them a worthy investment. Just think – no more sharing a bathroom with your kids or guests! If you have been considering adding a powder room to your home, now is the time to do it. You won't regret it.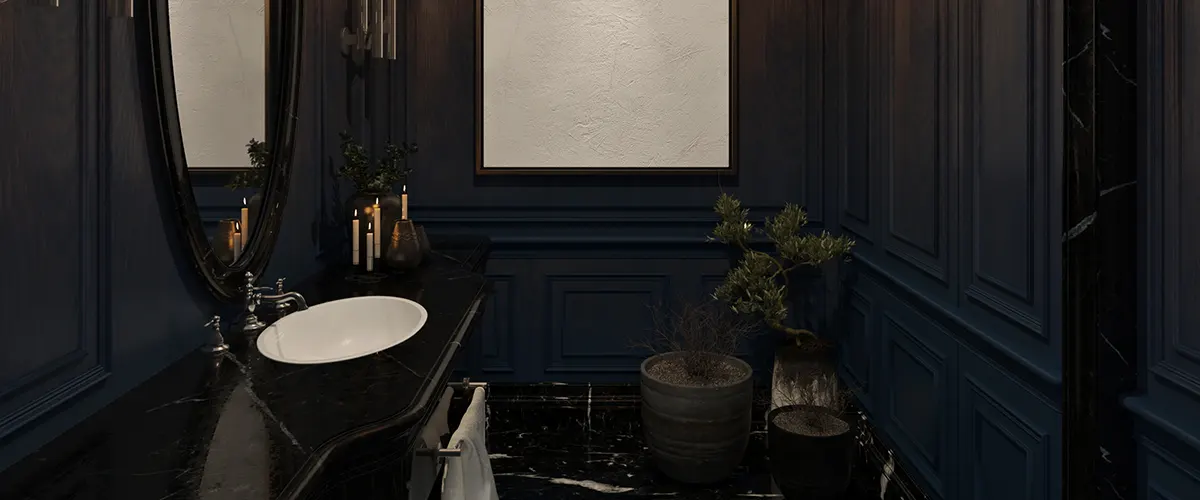 While many homeowners focus on making their homes more aesthetically pleasing, it's also important to consider how you can make your home more functional. If you have a multi-story home, one way to do this is by adding a half-bath on one of the lower levels. This can be a great way to improve safety and accessibility for elderly family members or those with limited mobility.
By having a bathroom with a large vanity and enough room on the same level as the living area, they won't have to worry about climbing up or down the stairs every time they need to use the toilet. This can also be a convenient option for guests who may not be familiar with your home's layout.
In addition, a half-bath can also add value to your home should you ever decide to sell. So, if you're looking for ways to make your home more functional and accessible, adding a fully assembled half-bath with a single vanity and contemporary design can solve your small space problems and help out your family in the long run.
Creates A Sense Of Privacy
Having a guest space with a bathroom vanity in your home can be a real lifesaver, especially when you have unexpected guests. Your guests can use the toilet or sink without having to use the master bathroom, which is ideal if you value your privacy or if you didn't have the opportunity to prepare your home for guests. In addition, having a guest bathroom with a single sink vanity can be a real convenience for your guests, as they won't have to go through your personal space to use the facilities.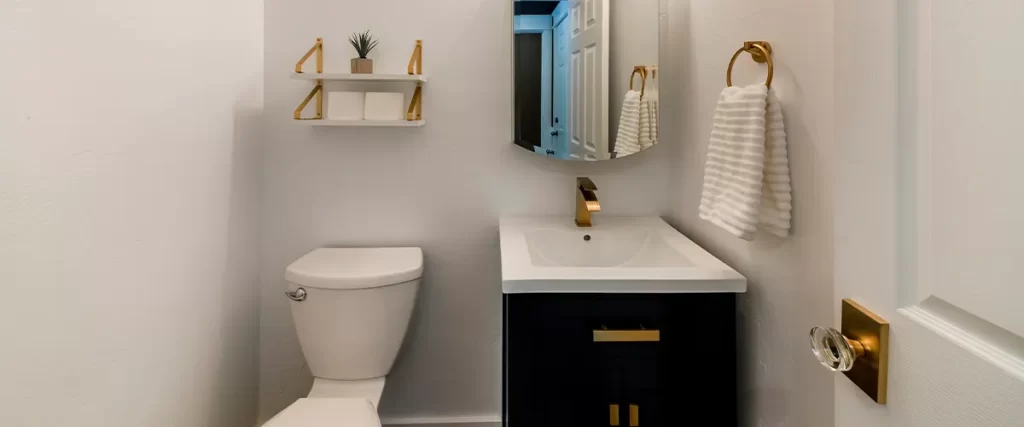 Key Considerations When Adding A Vanity Powder Room
When opting for a powder room remodel, the first thing to keep in mind is that less is more. Because powder rooms are smaller in size, you won't need to worry about making a major impact on the overall look of the room. Instead, focus on choosing features that will fit well with the space. For example, consider a small powder room vanity with a sink and a vanity cabinet. Or opt for a wall-mounted toilet to save even more space.
Another important consideration for powder rooms is privacy. Because they are typically located off of a main living area, it's important to make sure that there is enough privacy for guests. This means choosing features like frosted glass windows or doors or adding a privacy lock to the door. This way, you can turn small spaces like a half bathroom into cozy rooms with modern styles that guests will love.
With these considerations in mind, designing a tight space can be a fun and creative process. Be sure to take your time and choose features that you love, and you'll end up with a powder room that is both functional and stylish.
Powder Room Vs Master Bathroom
The distinction between a powder bathroom and a master bathroom lies in their purpose, scale, and features. 
A powder bathroom, often referred to as a half-bath or guest bathroom, is a smaller, utilitarian space designed for convenience and quick visits. Typically located near the main living areas, it usually consists of a toilet and a sink, providing basic amenities for guests and residents alike. 
In contrast, a master bathroom is a more elaborate and spacious retreat directly connected to the master bedroom. It offers a luxurious and private sanctuary for the homeowners, equipped with a combination of features such as a larger vanity area, dual sinks, a bathtub, a shower, and sometimes even a spa-like atmosphere. 
If you're thinking of renovating our home, a powder room with bathroom vanities is a great option to consider. It can add value to your property, provide extra convenience for guests and family members, and give you some much-needed extra storage space.
Plus, it's a great way to add some personality and style to your home. For more design ideas, you can check out NKBA's website and if you need help updating your home, contact us – we would be happy to assist you in any way we can!