Remodeling your kitchen can be a great way to add value to your home and enrich your overall lifestyle. 
A kitchen remodel with new paint and new countertops can go up to $180k if you include all the other bells and whistles. But there are ways to reduce the costs and still enjoy a gorgeous kitchen. 
Below we'll share pro tips on how to save money on a kitchen remodel and still get the kitchen of your dreams.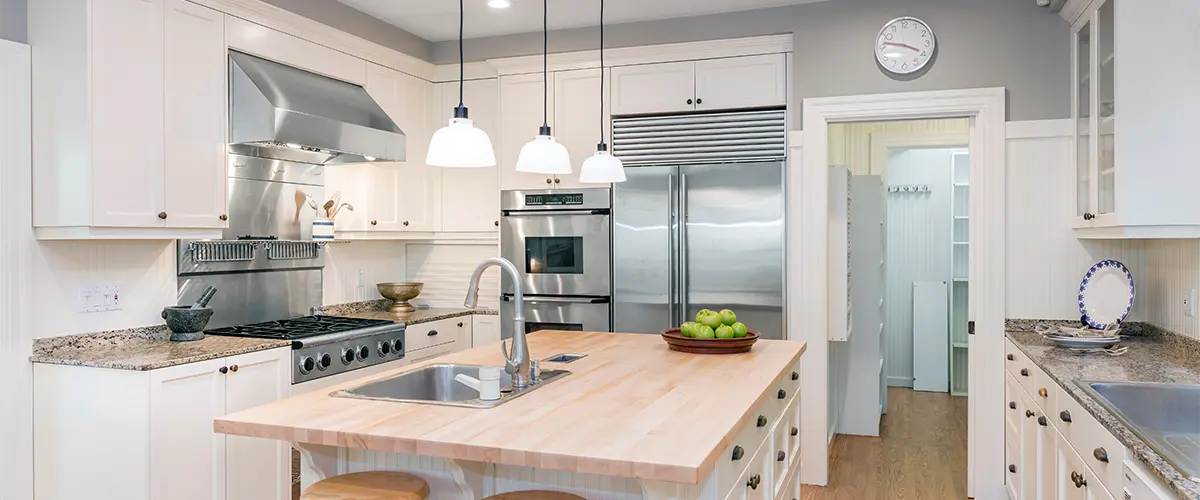 Valuable Tips On How To Save Money On a Kitchen Remodeling
We share some tips below so you can enjoy a beautiful bathroom at reduced costs, whether you work with a remodeling contractor or on your own. 
1. Understand The Breakdown Of Material Costs
The materials category is where you have the most freedom in kitchen renovation. Kitchen cabinets and new hardware make up almost 29% of the material budget, followed by their installation (17%), appliances and ventilation (14%), and everything else. 
Countertops, flooring, lighting, walls and ceilings, design fees, doors and windows, faucets, and plumbing—make up small amounts of less than 10%.
To improve your kitchen remodel budget, discuss with your contractor what long-run improvements for your dream kitchen you can make to save money. You would love to have durable materials, but they might be more costly.
2. Refinish Or Paint Your Kitchen Cabinets
While new custom cabinets are the dream of every homeowner, painting or refinishing your existing cabinets is a low-cost way to upgrade your kitchen. Always choose a paint or stain color that blends naturally with the rest of your home's color scheme. 
According to NKBA, blue is the hottest color for kitchen trends in 2023, followed by soft earthy greens like moss and taupe. If you're looking to save even more, attempting to DIY your kitchen cabinet painting may be a good idea, but only if you have a proper understanding of surface preparation, sanding, priming, and painting.
In most cases, working with a professional will cost you less money and less trouble than doing it yourself. Other kitchen cabinet update ideas include replacing cabinet hardware or the entire cabinet. Do you want new shelves? It might be easy to update cabinets into painted open shelving. 
Small changes can make a big difference, as with the rest of your kitchen. You can also complete them with stone countertops – consider manufactured stone to save money.
3. Keep Current Layout and Plumbing Where It Is
Rearranging the kitchen layout costs more because you need to move plumbing, dishwasher, sink, and stove. To do this, you need to hire plumbers who will have to run new pipes and electricians for new electrical circuits.
Then continue with "keeping the regular plumbing where it is will save you money" because that's accurate. Keeping the regular plumbing where it is will save you extra money in the long run and reduces labor costs.
4. Install New Energy-Saving Appliances
While it may seem that you're spending more, a home with newer kitchen appliances will outperform a comparable home with older appliances in value.
Switching to newer, energy-efficient appliances in your kitchen is an excellent way to reduce the energy your home consumes. 
Refrigerators, washing machines, ovens, stoves, and smaller appliances such as toasters are available in newer models that use less water and energy.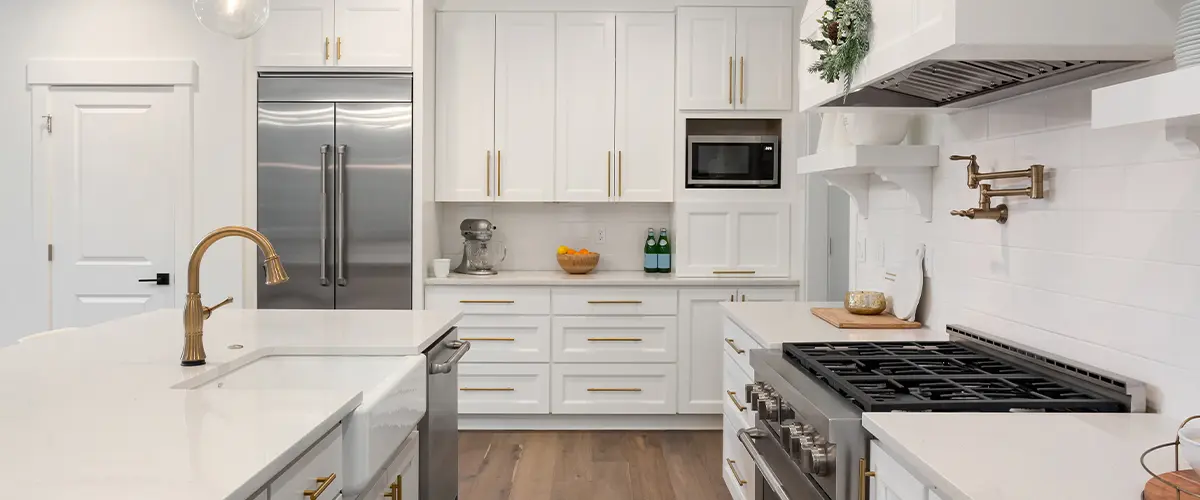 The Benefits Of Doing A Kitchen Remodel
A kitchen can benefit homeowners since it is a perfect room. A beautiful kitchen adds value to your home and makes your life easier and more comfortable. Here are some of the main benefits of remodeling your kitchen, no matter the size and budget: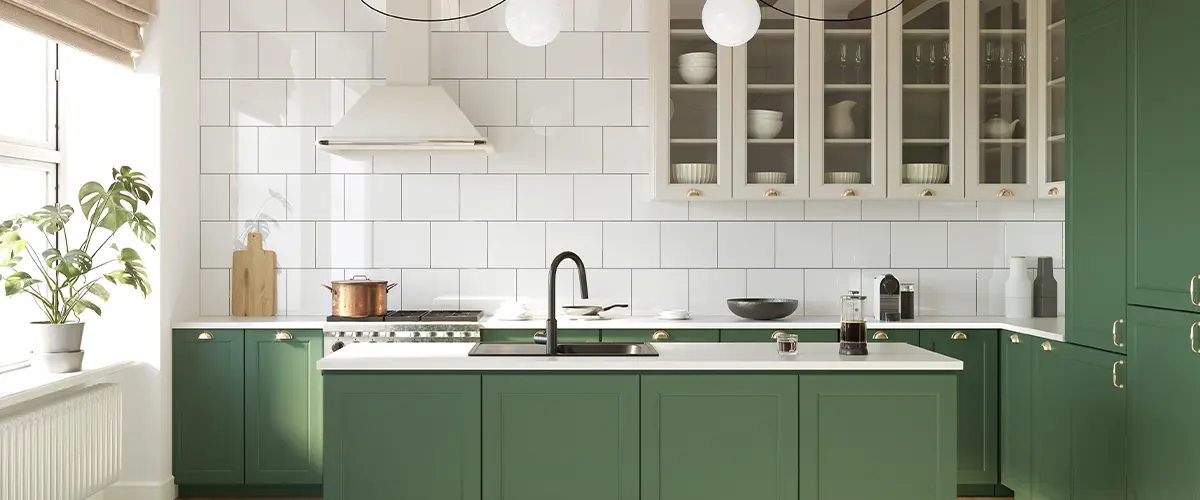 Remodeling your kitchen can be a small, inexpensive project. With just a few small changes, you can create a new look and feel for the space.
We hope these tips helped you understand how to save money on a kitchen remodel by being aware of material costs, energy saving appliances or considering kitchen cabinets refacing or repainting.
For more design inspiration, you can check out NKBA's website or our kitchen remodeling gallery, and if you need help figuring out where to start or need some advice, our expert team is here to help. 
Contact us today for a consultation. Let us show how we can help make your kitchen worthy of a remodeling magazine.